Summer has unofficially ended for me. Last week I attended a two day Administrator's Academy as part of my new role as Language Arts department chair. I was completely brain dead after the first day and loopy by the end of the second day! I did enjoy getting together with everyone and working through what we want our campus to work towards this year. I hope these kids are ready for it! They're gonna work!
On Friday, I went up to work in my classroom. Two of my sweet friends, who are now stay at home moms but used to teach with me, came up to help me get some work done. My friend, Laura, pretty much did all my boards under my direction. She's A-mazing! She helped me last year while I was pregnant and again this year and I'm not even pregnant! The good news is I think my walls are done. The bad news is I still have to finish organizing my library(a beast of a job), room arrangement, cleaning/organizing my area, etc.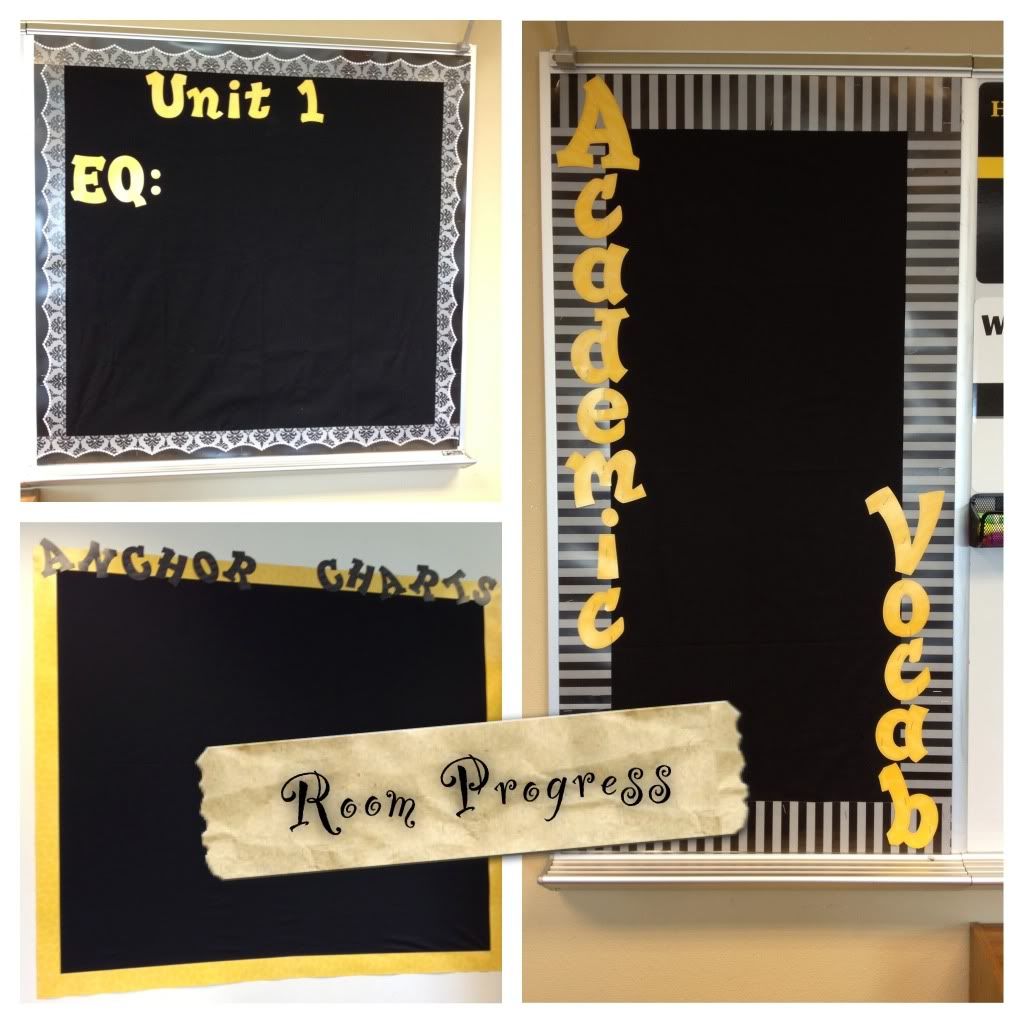 Laura and I went into my old department chair's room to look at what's going and staying. I had to take a moment or 10 when I opened the closet and saw all the stuff I had to now clean out of there and find a home for. Laura had to leave but luckily my other friend, Carissa, and her two boys were on their way!
I must say, her son got right to work helping clean out the closet, take stuff off the cart, and actually organize it on my desks. It took us two trips to the closet and it was done. That was a huge lifesaver! I was done after that though and needed to leave the mess on the desks for when I go up on Monday. I do have a plan for what I need to do with it all which is good since I didn't have a single plan when I opened that door!
After the closet was unloaded into my room
Today, unfortunately, was my last day working in my room. I'm by far not even close to being done. Everything that came out of the closet has been found a home (well except for some office supplies). I've begun the task of working on my classroom library. New labels and organizing to come! I feel like I've gotten stuff accomplished but it sure would make me feel better to be able to work in it this week. This will be the last summer I sign up for a three day training the week before staff development!
Using Post Its to remind me the genre until the labels are finished
I'm exhausted. So that's going to have to be all for now!